Massage Clinic QT is a Remedial massage therapy clinic in Central Queenstown. It provides assistance with rehabilitation from injury, training, surgery, chronic pain and everyday aches & pains. The clinic specialises in Neuromuscular Therapy, Therapeutic Massage, Sports massage, Manual Lymphatic Drainage, Compression Bandaging & Compression Garments for Medical/Travel/Sports.
Lesley Logan
Remedial & Lymphatic Massage Therapist RMT MNZ ALA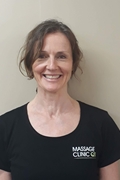 Lesley is a Registered Lymphatic & Massage Therapist. She holds a Diploma in Massage Therapy (Hons) Canterbury College of Natural Medicine; Vodder V3 certified Manual Lymphatic Drainage & Combined Decongestive Therapy; Certified Lymphoedema Therapist. Special interests in treating chronic pain - low back/hip/shoulders, sporting injuries, chronic fatigue & reduction of Lymphoedema/Lipodema/odemas. She applies MLD to treat a host of medical conditions. Please see website for more information.
Unit 23, Gorge Road Centre, 159 Gorge Road, Queenstown
027 4536 341
Monday

Tuesday

Wednesday

Thursday

Friday

Saturday

Sunday

8:30am - 8:00pm

8:30am - 8:00pm

8:30am - 8:00pm

8:30am - 8:00pm

8:30am - 8:00pm

10:00am - 6:00pm

10:00am - 6:00pm